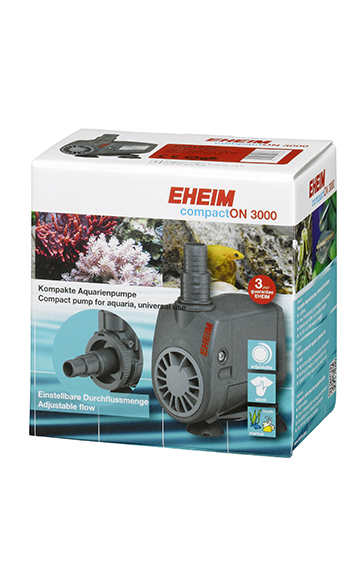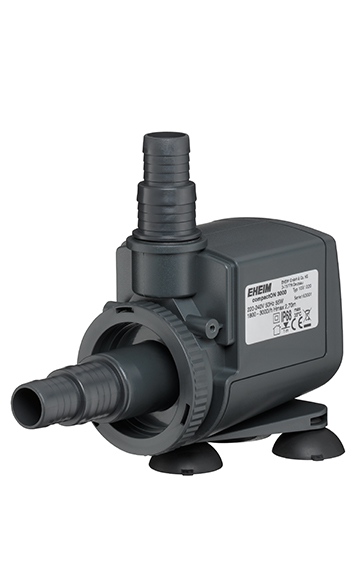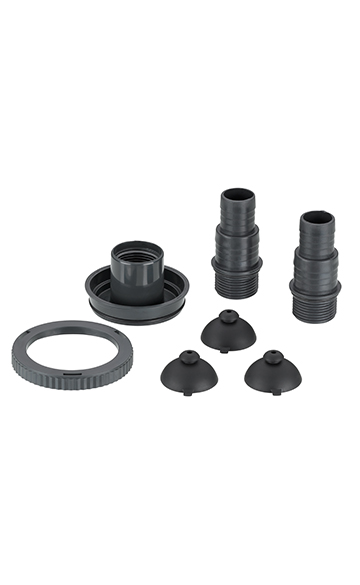 "EHEIM compactON 3000"
Compact, powerful and silent
EHEIM compactON is the compact and yet powerful aquarium pump. Available in eight sizes, for flow rates from 170 to 12000 liters per hour.
The EHEIM compactON aquarium pump is characterized by its name through a compact design and is thanks to the included accessory bag appropriate for versatile use – the EHEIM compactON 2100-5000 can also be modified for the use outside of the water. Thanks to the high quality material it is also possible to use them without problems in marine water.
For even more flexibility, the flow rate is adjustable for all models, except for the EHEIM compactON 5000/9000/12000. EHEIM compactON 300 is already appropriate starting from 170 liters per hour, EHEIM compactON 600 starting from 250 liters, EHEIM compactON 1000 starting from 400 liters, EHEIM compactON 2100 starting from 1400 liters and EHEIM compactON 3000 starting from 1800 liters. EHEIM compactON 5000/9000/12000 is designed for a flow rate of 5000/9000/12000 litres per hour.
Compared to the pumps of the EHEIM compact/compact+ series the power consumption was again improved by up to 50%. Also the delivery head is presentable and makes the pumps powerful enough also for the use in the filter basin.
In order to guarantee a silent operation of the pumps, various measures have been taken like for example choosing a combination of ceramic axis and ceramic cover at the wing part of the EHEIM compactON 2100 and 3000. This also guarantees a long service life of the pumps. 
A high security standard has been attached like to all other EHEIM products as well as for the aquarium enthusiast as for the aquarium inhabitants. The cables are characterized by a thicker insulation and to the benefit of the aquarium inhabitants only materials which do not dispense toxic substances into the water, have been used.
The use in and outside the aquarium is possible for all pumps of the EHEIM compactON 2100 series.

Advantages of the EHEIM compactON
Successor of the compact and compact+ series
Fastening by means of robust suction cups
Including accessories such as suction basket and threaded coupling
Silent due to ceramic bearing (EHEIM compactON 2100/3000/5000/9000/12000)
High pump performance at low power consumption
compactON 5000/9000/12000 as electronic version for more efficiency